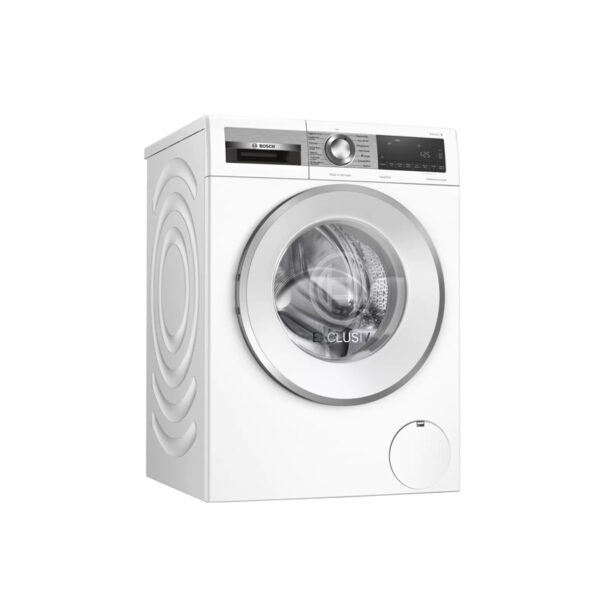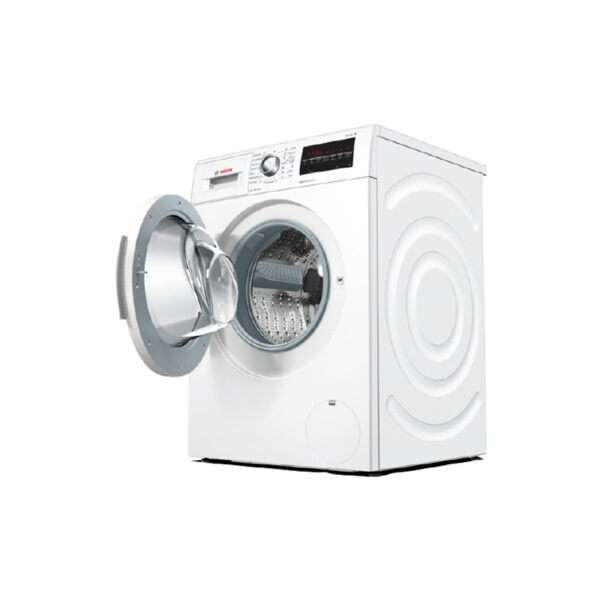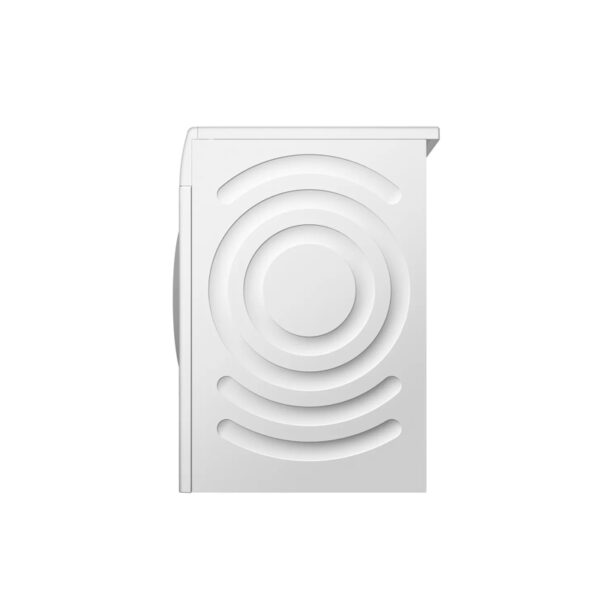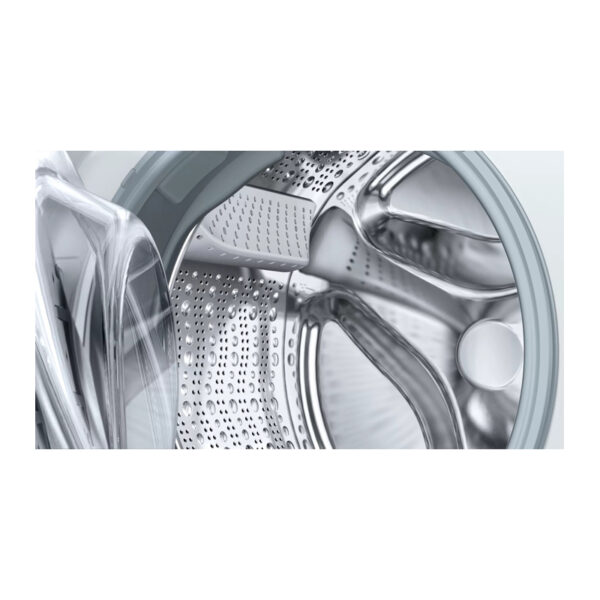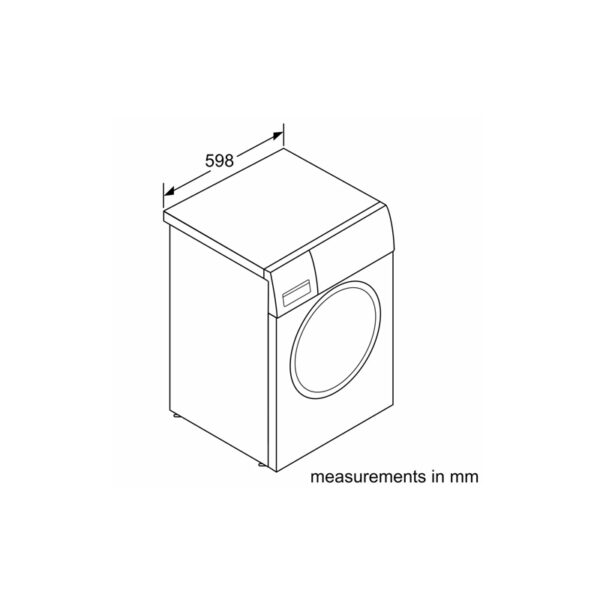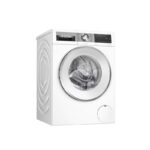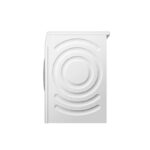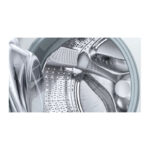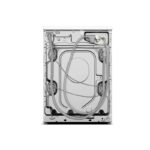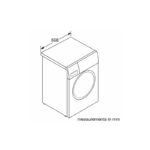 Bosch Serie | 6 Front Loader 10kg Washing Machine
৳ 164,900
Description
Brand: Bosch
Model: WGG256M90
Product Type: Front Loader Washing Machine
Capacity: 10kg
Made in Germany
Key features:
● The stain remover reliably removes the four most common stains Stains.
● EcoSilence Drive™: the quiet and energy-efficient drive with 10 year guarantee.
● Hygiene Plus: hygienic and clean washing even with 40°C.
● SpeedPerfect: perfect cleanliness with up to 65% time saving*.
● VarioDrum: gentle and efficient washing thanks to unique drum structure.
Performance and consumption:
– Energy efficiency class¹: B
– Electricity consumption² / water consumption³: 59 kWh / 47 liters
– Rated capacity: 1 – 10 kg
– Program running time⁴: 3:59 h:min
– Spin efficiency class: A
– Spin speed**: 0 – 1600 rpm.
– Noise level: 72 dB (A) re 1 pW
– Noise efficiency class: A
programs
– Standard programs: cotton, synthetics, delicates/silk, Wool hand wash
– Special programs: down, clean drum (with reminder function), jeans/dark laundry,functional textiles, spin/drain, quick/mix, Rinsing, ExtraShort 15'/30′, Hygiene Plus
– Hygiene Plus: Clean laundry and effective elimination of Germinate
options
– SpeedPerfect: perfectly clean in up to 65% less time. ***
– Spot automatic with 4 spots – switchable to the usual standard programs
– TouchControl buttons: easy iron, ready in, stain selection, start / pause with refill function, temperature, SpeedPerfect, prewash, water plus, speed selection/rinse hold
Technical Data
Energy efficiency class (EU 2017/1369): B
Weighted energy consumption in kWh per 100 wash cycles im
Program eco 40-60 (EU 2017/1369): 59 kWh
Maximum capacity in kg (EU 2017/1369): 10.0 kg
Water consumption in liters in the eco program per operating cycle
(EU 2017/1369): 47L
Duration of the eco 40-60 program in hours and minutes
Nominal capacity (EU 2017/1369): 3:59 h
Spin efficiency class of the eco program 40-60 (EU
2017/1369): A
Airborne noise emission class (EU 2017/1369): A
Airborne noise emissions (EU 2017/1369): 72 dB(A) re 1 pW
Design: standing device
Countertop Height: -2mm
Device dimensions: 848 x 598 x 590 mm
Net weight: 82.2 kg
Connection value: 2300 W
Fusing: 10 A
Voltage: 220-240V
Frequency: 50-60Hz
Approval certificates: CE, VDE
Length of connection cable: 160 cm
Door stop: Left
Roles: no
EAN number: 4242005315611
Type of installation: floor standing
comfort and safety
– VarioTrommel: gentle and efficient washing
– Drum interior lighting: LED
– Drum cleaning with reminder function
– EcoSilence Drive: quiet motor with a long service life
– 10 year motor guarantee
– AntiVibration Design: more stability and smoothness
– Rotary selector
– Large, clear LED display for program sequence, max. spin speed, remaining time display, 24 h
End time preselection and loading recommendation
– Reload function: The refill function allows you adding items of laundry even after the start of the
washing program.
– ActiveWater Plus: for the most efficient use of water even with small laundry loads thanks to automatic load identifier.
– Foam detection
– Imbalance control
– Child lock
– Beep
– Easy cleaning drawer
– Liquid detergent insert
– 32 cm porthole, silver-white with 165° door opening angle
– AquaStop: a Bosch guarantee against water damage – a
device lifetime*
Technical information
– Can be pushed under from a niche height of 85 cm
– Device dimensions (H x W): 84.8 cm x 59.8 cm
– Device depth: 59.0 cm
– Device depth including door: 63.6 cm
– Device depth with open door: 107.3 cm
¹ On an energy efficiency class scale from A to G
² Energy consumption in kWh for 100 wash cycles (in the Eco program 40-60)
³ Weighted water consumption in liters per wash (im Program Eco 40-60)
⁴ Running time for the Eco 40-60 program
** The given value is rounded.